Rebirth - A collection of upcycled bags and artworks
Posted by ADITI PRAKASH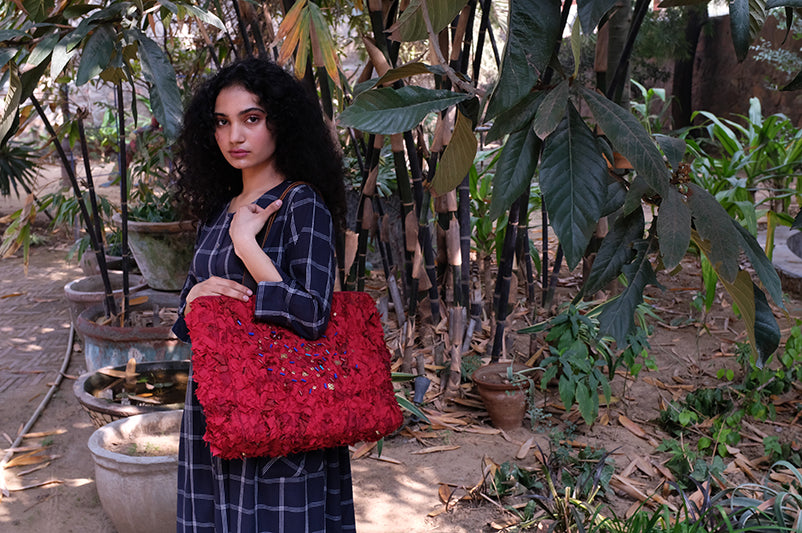 Rebirth
Rebirth is a collection of limited-edition textile bags and artworks created from upcycled fabric waste. Made in small batches of 5-10 pieces, these are onetime offerings crafted from materials meticulously collected over the last 10 years.
 This collection is all about finding value in waste that would be otherwise discarded. Recycling / Upcycling is an important aspect of our design philosophy. We have been creating upcycled bags and accessories since 2010. Our earlier collections included Crazy Katran – a range of bright multicoloured bags and Raquel a collection on Black bags.
The colours of this collection are inspired by gemstones. The tiny pieces of fabric are collected, sorted according to colour and stored. Based on the requirement the fabrics are quilted together intuitively to create layers of tonal variations resulting in a rich textured surface. It is further embellished with sequins and silk threads that were bought for sampling but never got used in production.
While we take utmost care to minimise waste in our production processes, making generates waste.  The larger off cuts of fabric are used to make small accessories like bag charms, hair clips etc, the smaller pieces however are more difficult to repurpose. The nature of this waste as a source material demands a different approach to design.
The variability in materials, colours, and techniques renders each piece wholly unique. In this unpredictability and randomness lies the very beauty of this collection. It is our way of contributing towards sustainable consumption and hoping for a future without waste.
 The collection consists of totes, potlis, slings and textile artworks. See them here.
The  Katran Tote Bag is a limited-edition bag made from upcycled textile waste. The Tote is sturdy in construction and detailed with internal pockets, a zip closure and leather handles. The best part is that the texture looks better as it ages. 
The Katran Potli is a limited-edition bag made from upcycled textile waste. A unique potli with tassel trims, the colour and finish of this bag will make it a favourite addition to your evening ensemble.
The Katran Arya is a limited-edition bag made from upcycled textile waste.  The Arya sling bag is one of our best-selling styles. It is just the right size for carrying all your essentials.
This One-of-a-kind jewel toned art work represents an idea, showcases craftsmanship and recalls a story of those who made the bags that generated this waste. Collection 2019 Sale 70% Off Title for image