Collaborative Creativity
Posted by ADITI PRAKASH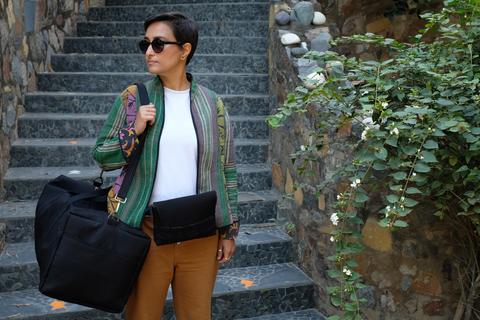 Pure Ghee collaborated with a landscape architect, Raquel Coutinho Estrócio to create a collection of pared-down minimalist pieces for the woman living in metros leading very active lives.  The collection consists of multi-functional pieces that are meant for everyday use. These bags cover all the activities in her life like work, travel, and entertainment. 
Here are excerpts from an interview with her, where she talks about travel, what inspires her and her rendezvous with India.
Tell us a little about yourself, your educational background and work experience.
I pursued Landscape architecture from Évora University, Portugal and got my basic training in sewing and fashion pattern building from Modatex, Lisbon. I have been working as a landscape architect for the past 21 years.
What inspired you while you were designing this collection?
On the one hand, it was based on my own experience having a busy city lifestyle using public transport both in Lisbon and Paris and traveling through Europe. I like carrying my entire life with me when I am on the move, which compels me to search for multi functionality and using it as a form of survival but also as a statement. It was always my dream to create the perfect multifunctional bag where "I" could go in.
Secondly, I got inspired by the amazing handcrafted fabric created by Aditi, with leftover fabric - " Crazy Katran". I designed it all in black because not only is it the color of my choice, but also because I believed it was so sophisticated and perfect for the idea in mind.
The golden interiors idea came from the search for a fabric that could translate the richness of gold that you find in India everywhere, sometimes very pungent, other times very subtle but always there. I also brought in a geometric pattern to correlate the city vibe. The contrasts make the black "katran" pop, giving it a more sophisticated look and finish. The structured forms were thought of keeping in mind an urban and modern person. 
The multifunctionality comes in the way you can use all the bags with different straps. for example; the Lisbon bag - can be used as a sling or a backpack; the Porto clutch - can be used as hand clutch, with a short strap, and with the long strap as a fanny pack and a sling.
The idea was to have a basic form and by changing the straps you can have a totally new look that can go from the morning in the office to a night out.
An additional feature is that all the bags can be nested, one inside another, for storage or traveling.
The possibility of seeing the collection being built right in front of me, along with the perks of staying at Aditi's studio cum home in the Windmill Community was a true gift.
Any challenges that you constantly faced?
 Not knowing Hindi was the most challenging thing for me. Plus, English is not my mother tongue so communication sometimes got lost.
What do you like about Pure Ghee?
Let's first say that On the other side, I used a Pure Ghee bag that Aditi gifted me, last time she was in Paris, for a year and a half non-stop. So that is a big statement of how much I love Pure Ghee.
I really love the fact, that the bags are mostly in fabric.
I admire that Aditi is always on the lookout for new and innovating ideas to improve her designs, materials, and processes. That she still uses traditional materials with a more modern design. And that she has an environmental policy or reusing most of the materials, like the one that translated to "katran".
I also appreciate that she employs local people, especially women on her workforce and creates a very comfortable and peaceful environment for everyone to work in.
How did you like India? Was it like what you expected?
I found India fascinating. But maybe not in a touristic sense, but as a native, since I had the possibility to live a bit like a local.
As my first time in India and coming from Europe I found positivity in people that I didn't expect. All the other things that people talk about are there, especially the generosity, but I felt a kind of multiple possibility vibe occurring which was refreshing and unexpected. Collection 2019 Sale 70% Off Title for image