Buy less, choose well, make it last.
Posted by ADITI PRAKASH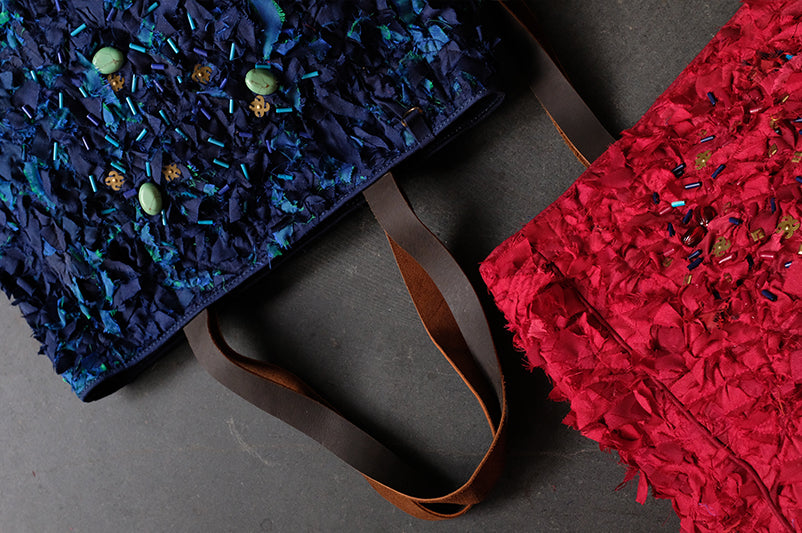 Buy less, choose well, make it last - Vivienne Westwood.
A common complaint about our Katran totes is that they do not wear out. Durability is an important design consideration that we build into every aspect of our product and we are very proud of it.
The idea of making a surface of katran using the cutting waste from our studio came about in 2011.
Larger pieces of fabrics were used for making textile flowers and the bits that were left over from that were further collected, sorted and quilted together on a fabric surface to create interesting textures.
Layering and quilting cloth to increase the strength of the fabric is not a new idea. A dense layer of shredded fabric waste is quilted together creating a robust surface that is used to make the bags. Over the years we have experimented with monotone shades and further embellishing the surfaces with beads and sequins. However the multi coloured collection which we call the Crazy Katran collection remains a favourite. We have also created other products like camera straps, home furnishings etc using this material.
Our classic Katran bags are given leather handles as they wear better compared to cloth handles. They have secure zip closures and convenient pockets on the inside to increase functionality and ensure that the bags are cherished and used well.
The cost of sorting, storing and creating these fabrics is way higher than making them from new fabrics.
Our commitment to the value of thrift - so intrinsic to our culture keeps us motivated to use the humble scraps to create exquisite products of sustainable design.
View the entire upcycled Katran collection here.
Drop in a mail to sales@puregheedesigns.com if you have any questions or would like to customize a piece. Collection 2019 Sale 70% Off Title for image