Neel – Accessories celebrating the Indian Monsoon.
Posted by ADITI PRAKASH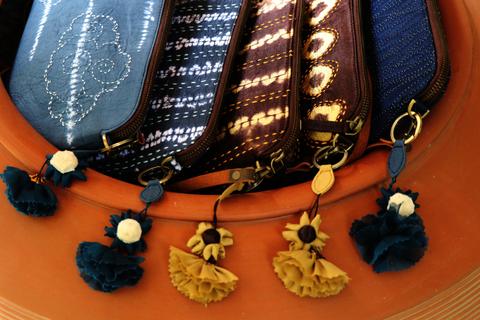 (Picture Courtesy: Museum of Fine Arts, Boston )
Ragamala miniature painting, Malwa, 17th century. (Above) inspired by the Megh Malhar Raga. It is a depiction of Lord Krishna and Radha dancing united in the joy that the rain brings.
The parched plants and people are awaiting the clouded skies. Nothing beats the feeling of the first rain hitting the shrivelled ground. In India, monsoon is more than just a season, it is a celebration of respite from the hot and sticky summers. The streets fill up with drenched children, making paper boats, the smell of chai and pakoras wafting in the air and the constant drumming of the rain which turns into music for the ears. Neel collection marks this magic of the monsoon. 
If monsoon was a color it had to be blues and earthy browns. The slow transition of the skies, and color of the wet earth. These are the colors we used in the Neel collection. The motifs of the clouds, the concentric ripples of water, the falling water drops and the streams of flowing water depict the moods of Monsoon.
The dark rumbling clouds and lightning depicted in the form of white shibori lines in  Our Cloud Arya Sling.
Tender ripples created by water droplets in monsoon on our circular sling bag. The concentric Kantha Embroidery along with shibori dyeing are the techniques used to bring out the form of a ripple.
 The scent of wet earth after the first rains,  a fragrance which eases the mind and calms the soul. Our indigo and chocolate potlis inspired by petrichor.
The amalgamation of clouds and dark blue sky is depicted in our Shibori mala, resist Indigo-dyed cloth strung into beads and finished with accents of gold and tye and dyed tassles. These limited edition pieces of textile jewelry remind you of Monsoon even when it's not raining.
People enjoy monsoon in different ways. Some people travel, some visit cafes but some crawl into their comfort zones - their homes. For people who prefer staying indoors in the rain, bring monsoon to your living room with these Shibori cushions. Add a cup of coffee and your favorite novel and you are all set to enjoy the rainy days. 
This Monsoon, It's time to take a dip in the blues. Collection 2019 Sale 70% Off Title for image