Raksha Bandhan - Sibling love and precious childhood memories
Posted by ADITI PRAKASH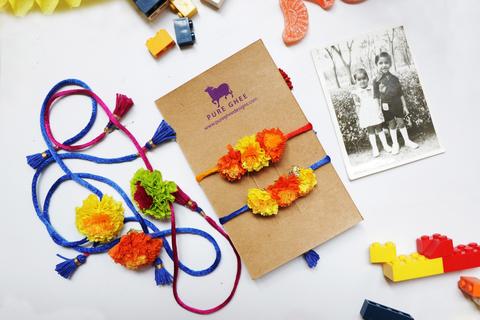 Raksha Bandhan celebrates the everlasting bond between siblings. Every year at this time we tend to get nostalgic and relive the carefree days of our childhood. Eating candy, playing with our favourite toys, coveting pretty stationery, making and bursting bubbles , all the 'childhood' things we loved doing with our siblings who were our constant companions.
On Raksha Bandhan traditionally sisters tie an amulet (commonly referred to as rakhi) to their brothers who are duty bound to protect them. Like all traditions, Raksha Bandhan also needs to become more relevant to the times we live in. We believe that rakhi can be a bond of love between siblings irrespective of gender. This Raksha Bandhan lets revist some of our most precious childhood memories and make some new ones while we are at it!
The legacy of toys
Younger siblings have always had the legacy of second hand, well-worn toys usually missing an eye or an ear. From sharing toys, and fighting over who would bat, somewhere we all grew up too fast. Our whimsical patchwork potli is an ode to the memories of the good old days.
The case of the missing stationary
Remember how we eyed our sibling's pencil case to rob them of their special pens colourful erasers? Somehow they always seemed to have what we wanted! Our kaleidoscopic Katran pouch, designed to carry your favourite stationary and essentials while you are on the go. A great gift to compensate the thievery, you would think?
Summer Vacations
Summer vacations were the best thing about childhood . Long summer days spent drinking iced sherbets, running wild in the streets, playing marbles, collecting pebbles by the beach and listening to the sea shells sing the symphonies of the seas. Today, I pads and smartphones have replaced board games and street games. Our playful Katran mobile sling is inspired by that very nonchalance. Time to unleash that inner child.
The Bookworm phase
The phase where we day dreamed most of the time (and some of us still are in that phase) . How we spent days inside the harry potter universe and got all ideas of romance from P.S I love You. The books borrowed were never returned and we fell in love with mere words. Our colorful Katran bag too has a story to tell, little bits of colourful scrap which was lying around wasted decided to come together to become something beautiful and meaningful.
Momento mania
Do you happen to have siblings who travel all the time? Mine always gets me something sweet from every exotic corner of world. He is one of the few people who knows exactly what I love. Our vibrant katran wallet is a one of a kind gift that your sibling will be thrilled to receive. Collection 2019 Sale 70% Off Title for image